Environmental science major Wanees Hannan wants you to be happy.
For the past three years, Hannan has facilitated discussions and lectures for the Happiness Advantage DeCal, a student-led course that challenges participants to adopt a daily practice of mindfulness, gratitude, and kindness. "People tend to be happy after they accomplish something or reach some level of success, but after a week or so of feeling good, they start to search for a new thing to make them happy," he said.
As a facilitator of the DeCal, Hannan has helped hundreds of students stop moving the goalposts of happiness and appreciate life's little joys. By shifting toward this positive outlook, Hannan and other students have improved their satisfaction with school and in their personal lives.
On Sunday, Hannan will address his family, classmates, and the Rausser College community from the stage at the Greek Theater. There, he will speak about the power of holding on to hope—and how doing that can lead to a meaningful life—as the College's 2023 student commencement speaker.
Hannan spoke to Rausser College about his time at Berkeley ahead of his speech.
This conversation has been edited for length and clarity.
Why did you choose Rausser College?
I came into Rausser College as a freshman and what's really kept me here is how interdisciplinary the coursework is. My major is environmental science, but there have been all these different intersections of environmental science that I was able to explore. You can learn about the history, policies, and laws that shape our environment, wildlife ecology, and environmental justice. It really gives you different glimpses into the same thing. Beyond that, I really like that the support—from my classmates and from our advising team; it makes the College feel like a small campus in a huge university.
Can you tell us about the Happiness Advantage DeCal?
You hear a lot about DeCals during orientation, so I went looking for a one- or two-unit class during my first semester and the Happiness Advantage class stuck out to me. My middle school woodshop teacher showed us a TED Talk by Shawn Achor, a speaker and author who advocates for positive psychology, and a lot of our discussion material was based on that concept.
The class is structured as three-week challenges to try and build practices of mindfulness, kindness, and gratitude. By doing that, we hope students will be more grounded, content, and happy in the moment, which is usually when the "Happiness Advantage" comes in. Being happy can improve your focus and quality of work, which makes you more successful without having to chase after that. I had a great time and really enjoyed the class.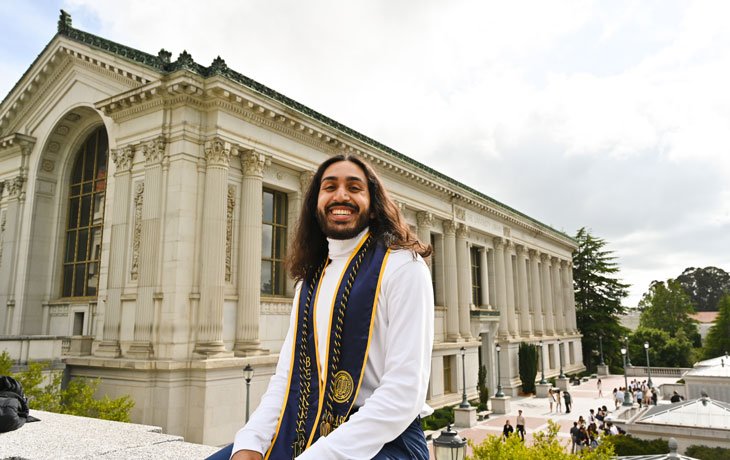 How did you become a facilitator for the course?
Toward the end of my first semester in the class, the facilitators mentioned that they were looking for new people to lead the class because many of them would be graduating. I signed up to facilitate it and have done so for the last six semesters. It might sound weird, but it's sometimes nerve-wracking to lead a happiness class—especially during the first few classes. It's easy to wonder if the students will be receptive to the material or if they'll follow along, but once we get through that it's a blast.
You rarely get a chance to sit with your classmates and talk about happiness, but for an hour and a half each week we offer students an opportunity to do that. And since everyone signed up to be there, we have really wholesome and great discussions about the material. It's definitely been one of my favorite things to do at UC Berkeley.
Where do you find your happiness?
For me, a big part of my happiness is social relationships. Spending time with friends—even if I just randomly run into them as I walk to class—really helps me recharge. Beyond that, I would say being able to "zoom out" and appreciate my surroundings brings me a lot of joy and happiness. Whether I'm walking through the eucalyptus grove on campus or at the Berkeley Marina taking in the sunset, I'm able to zoom out of your problems and worries and appreciate how intricate and beautiful the world around me is.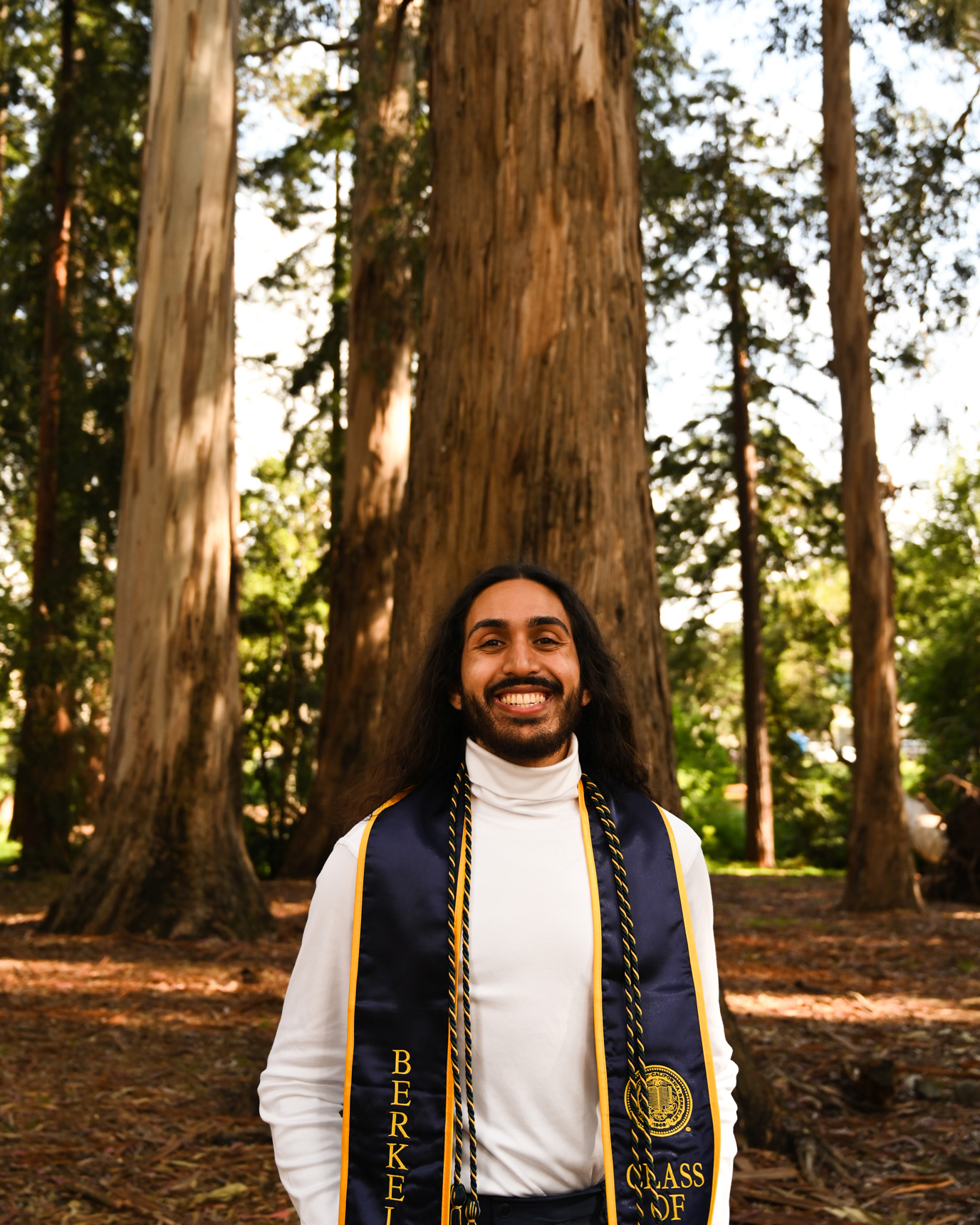 What else were you involved in during your time on campus?
I've been involved with the Muslim Student Association on campus since my freshman year. Every fall we host college application workshops at different mosques, and we also bring high school students to campus and pair them up with college mentors. A lot of the students tell us that they are the first in their families to go to college, so it's nice to walk them through the application process. In the spring we try to build connections between the Muslim community at UC Berkeley and the greater Bay Area.
I also serve as editor-in-chief for Threads, which is a Muslim student lifestyle magazine on campus. Each semester we put together an issue that highlights Muslim creatives, writers, and photographers, which is a really great way to create a space for people to share stories about their faith, life, passions, and interests.
​What would you say was your Berkeley moment?
One thing that immediately comes to mind was the Big Game during the first semester of my freshman year. We were at Stanford, and at the time I was a part of the Rally Committee. A last-minute touchdown helped Cal beat Stanford for the first time in something like nine years, and everyone rushed to the field in celebration. That was a moment I'll talk about again and again, but there are lots of other things too. Another thing that sticks with me is this sense of collective effervescence that I feel around campus. Every person in a lecture hall or at a game might have a different story, but all of our journeys led us to be here together.
How does it feel to be finally walking the stage, and what do you hope to do after graduation?
I'm very excited about graduating and navigating what is to come, but it does feel a little melancholic. Graduation will make it more difficult for me to see my friends on a regular basis, but there's also a hidden beauty in that. When we do have the chance to reunite, it's going to be an even more meaningful and special moment.
I'll be applying to medical school, and hope to work in the medical field addressing environmental health issues. There are some really wide disparities in environmental health. In Oakland, for instance, you might go from one area with fairly good air quality right into a neighborhood near freeways that has lots of airborne pollutants. I want to be able to not only do something to prevent these problems but also to immediately help the people who are affected.
Watch Hannan's speech at the May 2023 Rausser College of Natural Resources commencement below.