Student Spotlight: Aileen Lavelle
Fourth year, Environmental Sciences major
Aileen Lavelle, an undergraduate in the Department of Environmental Science, Policy, and Management, has always loved studying wildlife. Before coming to Berkeley, Lavelle volunteered at the Philadelphia Zoo, where she first discovered her interest in turtle conservation. This past summer, Lavelle worked—under socially-distanced conditions—at the Mote Marine Laboratory & Aquarium in Longboat Key, Florida. In this month's Student Spotlight, Lavelle speaks about her experience visiting Berkeley for the first time, studying abroad in Australia, and being a part of the Peer Advising Leadership Program.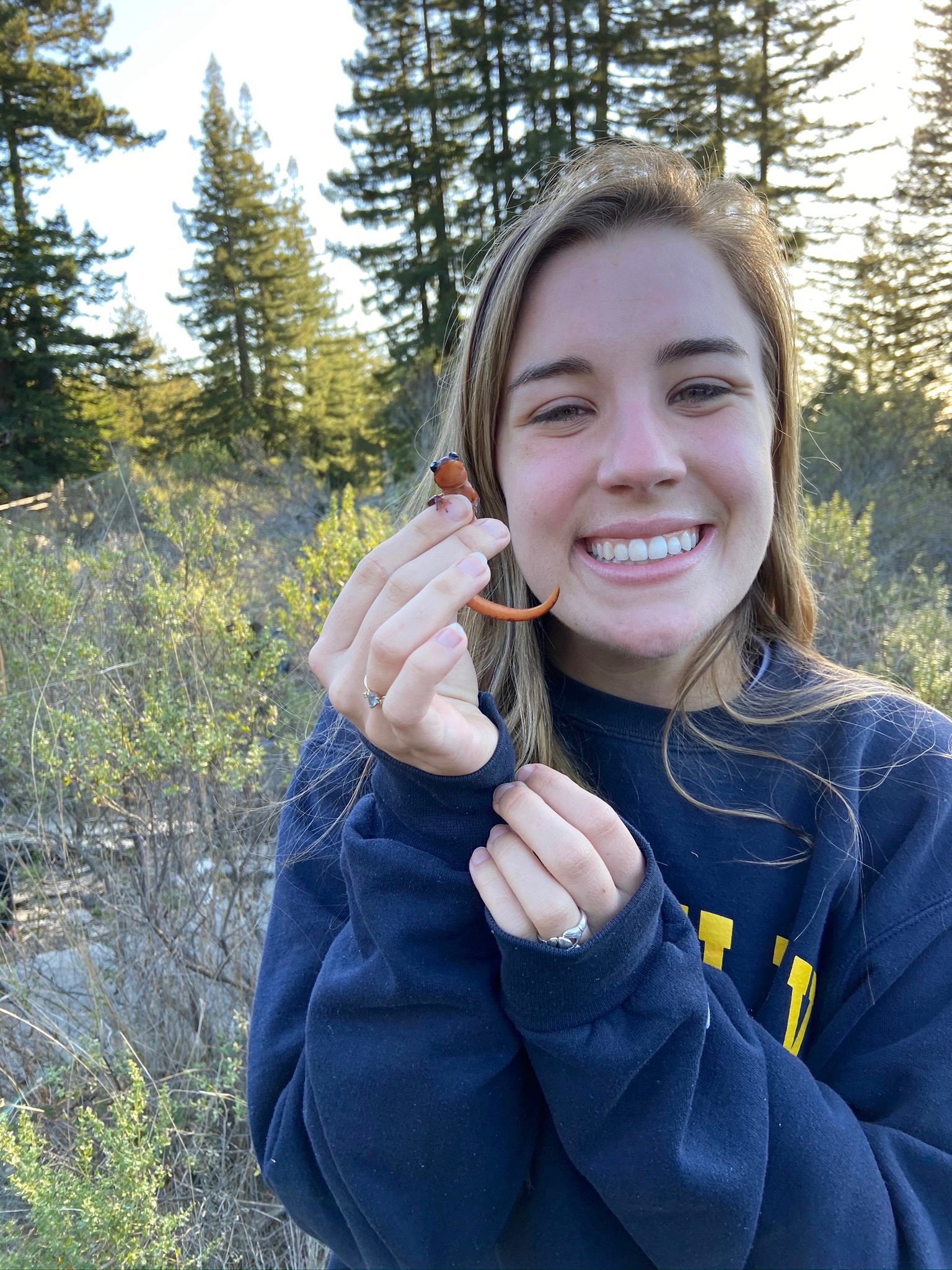 1. What first sparked your interest in herpetology research and education? 
My interest in wildlife conservation began during my time volunteering at the Philadelphia Zoo and Elmwood Park Zoos. I started as a public programming volunteer in high school and then later worked with zookeepers on the KidZooU Program in my junior and senior year. One keeper in that program was especially influential in kindling my passion for poison dart frog habitat and species preservation. 
The people in my program shared a common interest in conservation biology, offering a community of like-minded environmentalist peers. Outside of our volunteer hours, we went on day trips to local environmental organizations to explore other fields. For instance, we visited the Wetlands Institute in Stone Harbor, New Jersey several times to observe and assist the Institute's conservation work with Diamondback Terrapins, a turtle species. While aiding with fence maintenance to prevent turtles from entering the highway, I fell in love with the organization's work and eventually completed my own research on mapping Diamondback Terrapin behavior through the Coastal Conservation Research program at the Wetlands Institute. 
Outside of volunteering at the two zoos, I was a part of my high school's Science Olympiad team. I focused on ecology, geology and astronomy, but I knew I wanted to study environmental science in college.
2. Describe your position as a herpetology curatorial assistant at the Museum of Vertebrate Zoology. How has this work enriched your experience at Rausser College? 
I began working for the Museum of Vertebrate Zoology (MVZ) during my sophomore year. Using AmphibiaWeb, a website containing taxonomic information for every recognized species of amphibian globally, I mapped habitat ranges and wrote accounts of newly discovered species. The position got me hooked on herpetology, and the work was the perfect combination of public education and conservation.
Later, I transitioned to a herpetology curatorial position at MVZ. Working under Dr. Carol Spencer, I organize and conduct upkeep of the herpetology collection. I can also apply my taxonomic knowledge from courses I have taken at Rausser College, aiding the museum in making acquisitions and loans of specimens to other academic institutions. During a normal semester, I am also a student in the prep lab class, where I learn how to prepare museum skeletons and preserve animal specimens. Through my three semesters in the prep lab, I have had the great opportunity to learn about our specimens and how the collection is used for research.
My experience at MVZ has been pivotal in my academic career. This year, under Spencer's  supervision, I will conduct my senior thesis on heat mapping of light and predator interference on Loggerhead sea turtles on Longboat Key, Florida, drawing upon the skills and passions I have gained from the MVZ.
3. What did you study in Australia for your semester program?
I completed the Marine Biology and Terrestrial Ecology program through the University of Queensland during my junior year. It was a highlight of my time here at Berkeley as I made great friends, explored the Australian bush, and saw my first nesting sea turtle! Since my program was conducted through the University of California Education Abroad Program (UCEAP), there were students from other UC schools. Now, in addition to my many new eco-conscious Berkeley friends, I have eco-conscious friends spread throughout California and the world. 
I lived with an Australian host mother who encouraged me to explore the world and to venture out of my comfort zone. Outside of our time with our host family and in the classroom, we took many immersive field trips. We would hike upwards of twelve miles a day and complete field work at the Carnarvon Gorge and Lamington National Parks for our terrestrial ecology course. For marine biology, we conducted independent field research at Moreton Bay and Heron Island Research Stations, on the southern tip of the Great Barrier Reef--one of the only areas of the Great Barrier Reef that is not suffering from significant coral bleaching, which is caused by increasing global temperatures. It was so incredible to be able to see these ecosystems that I have read about and seen in nature documentaries, as well as to better understand the urgency of fighting climate change.
4. Can you describe your internship position at the Mote Marine Laboratory & Aquarium?
This summer I was an intern with the Sea Turtle Research and Conservation Program in Longboat Key, Florida. More than ninety percent of sea turtle nests in the United States are found on the Florida coasts—an area with the largest number of loggerhead sea turtle nests in the western hemisphere—making Florida essential to sea turtle nesting and recruitment. Our days started at twilight, where we would survey the beach for sea turtle tracks and nests, with each nest containing more than a hundred eggs on this sixteen-square mile island alone. Nesting females only come onto land at night to lay and cover eggs. In addition to identifying, marking off, and excavating nests, we assisted disoriented hatchlings on their journey to the ocean.
Sea turtles unfortunately face many anthropogenic risks to their survival, but two huge concerns that I witnessed are artificial lighting and predator interference. Under normal conditions, sea turtle hatchlings depend on light and shape identification to orient themselves towards the ocean. Artificial light leads hatchlings and adults in the wrong direction, away from the ocean and towards the dunes, where hatchlings can confusedly travel for hours and become vulnerable to predation. Additionally, as humans continue to develop coasts globally, food waste in refuse often feeds invasive species which can wreak havoc on native fauna. For example, the raccoon population on Longboat Key has exploded, resulting in the destruction of hundreds of sea turtle nests. Sea turtle hatchlings have an estimated one in ten-thousand chance of surviving to adulthood, even before counting the thousands of hatchlings lost to predators. 
A lot of my time this summer was spent responding to predator damage, both on sea turtle nests and hatchlings, which was a gruesome and time-intensive activity. We also had to respond to disorientation events and search the dunes for lost sea turtles before predators found them. Some hatchlings could be saved through emergency care at the hatchling hospital at Mote Marine Lab. However, without serious conservation efforts and the eradication of problems like raccoons and artificial lighting, this endangered species will be in serious trouble.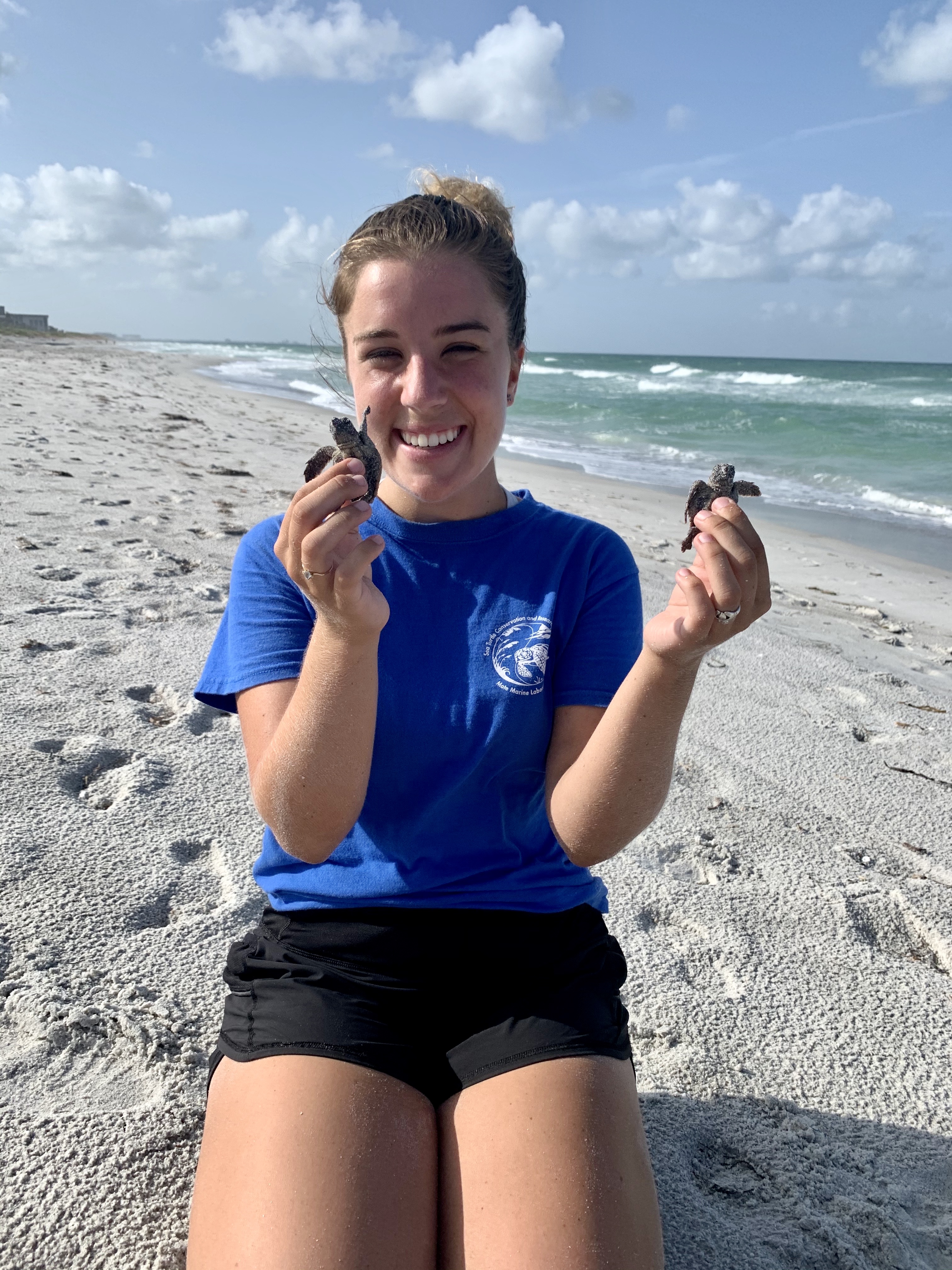 5. Describe your involvement in the Peer Advising Program and what that space means to you. 
The Peer Advising Program is a team of dedicated students that works to enhance the experience of all students at Rausser. As part of their leadership program over the past three years, I have planned and implemented several successful events to strengthen the bond of the Rausser community. One of my favorite events we had last spring was Bagels and Bingo, where students could enjoy bagels (as well as other vegan options!) and participate in College-themed bingo for prizes. Peer advisors are meant to help students gain perspective, whether that be on planning the semester, major, study abroad, research positions, clubs, or general adjustment to campus life. We welcome any student to come to our virtual office hours this semester from 10am - 4 pm Monday to Friday!
I distinctly remember my first day on campus in my senior year of high school, when I fell in love with Berkeley. My dad and I visited for Cal Day, and to say Rausser College blew us away would be an understatement. I felt that there was nothing I couldn't do at Berkeley, and the advising staff at Rausser is unparalleled. Rausser staff and students care about fostering a welcoming community, and I think that is what makes our corner of campus so special. Every time I walk into 260 Mulford, there is a feeling of familiarity that only comes from a place you can call home. I hope to make other Rausser students feel heard and valued, just as I do.
6. What are your post-graduation plans? What are you considering doing for a career?
I would love to be a Peace Corps or AmeriCorps volunteer after graduation, though everything is up in the air. In the long term, I'm hoping to continue doing field research and sea turtle conservation. I would love to move to Hawai'i or go back Australia to study how climate change is affecting sex ratios in sea turtle populations.
Do you know of a student or group in Rausser College involved in noteworthy research, community outreach, or extracurricular activities? Let us know by submitting a suggestion with this nomination form.