See the Bigger Picture. Make a Better World.
When it comes to the world we live in, no detail is too small to be noticed and connected to something bigger. At UC Berkeley's Rausser College of Natural Resources, we study how all aspects of our environment intersect and support each other so we are able to do more in the world, and do it wisely.
At Rausser College, we study natural and human systems from biological, ecological, economic, and social science perspectives. With more than 120 faculty and approximately 2,200 undergraduate and 500 graduate students, we engage the issues that shape the complex, interconnected world of the 21st century, from sustainable food systems to obesity, from water policy to energy policy, and from the far-reaching impacts of climate change to the linkages between the human genome, diet, and disease.
Undergraduate students attend a field class in forestry. Photo: Cathy Cockrell
Big University, Small College
Providing a small-college experience at the world's greatest public university, Rausser combines hands-on experience with a rigorous education. We give our students a solid foundation and big-picture perspective that informs and inspires them after they leave our campus.
Rausser College's personalized student services program sets us apart from other colleges and academic units on campus. Thanks to our generous and active alumni base and our student-centered credo, our students benefit from the most personalized and comprehensive advising services on campus.
Mission
The Rausser College of Natural Resources serves society by generating and disseminating knowledge in the biological, physical, and social sciences in order to provide the tools both to protect the Earth's natural resources and ensure economic and ecological sustainability for future generations.
We are the bearer of the University of California's historical land-grant mission, and we stand by our explicit commitment to deliver real solutions to our state, our country, and our world. All of our faculty members hold appointments within the University of California Division of Agriculture and Natural Resources, and our approximately two dozen Cooperative Extension specialists conduct research and build outreach programs connecting Rausser to the wider world.
"From the tiniest cellular systems to continental ecosystems, the College's interdisciplinary view allows us to see beyond narrow academic labels. We focus on understanding problems and finding solutions."

— David Ackerly, dean, Rausser College of Natural Resources
History
The Rausser College of Natural Resources is the first college in the UC system, dating back to the formation of the College of Agriculture in 1868, when the California legislature established the University of California in Berkeley, and the federal Morrill Act established a national system of research stations to foster teaching and research related to agriculture. UC Berkeley became the first state-run Agricultural Experiment Station and the first land-grant college in California.
In 1914, the College of Agriculture established a forestry program that included the study of forests and wildlands, along with their many resources and services, a program that eventually became the School of Forestry. As natural resource and environmental issues expanded beyond traditional farming and forestry, the College's mission also expanded. In 1974, the former agricultural and forestry schools joined with other environmental, biological, and food sciences to form the College of Natural Resources.
In 2020, the College was renamed the Rausser College of Natural Resources in honor of a landmark $50 million gift by Gordon Rausser, former dean of the college and the Robert Gordon Sproul Distinguished Professor Emeritus of agricultural and resource economics at UC Berkeley. The gift was the largest donation ever received by the College and the largest naming gift of any academic unit at UC Berkeley at the time.  More information on Gordon Rausser may be found here. 
Rausser College released a Strategic Plan in March 2023. Visit our strategic plan page to learn more about the College's vision and priorities. 
For more than 150 years, the college has focused on increasing society's understanding of the earth and the environment, and how humans and nature interact.  Learn about our academic offerings, our research and outreach, and our countless alumni making a difference.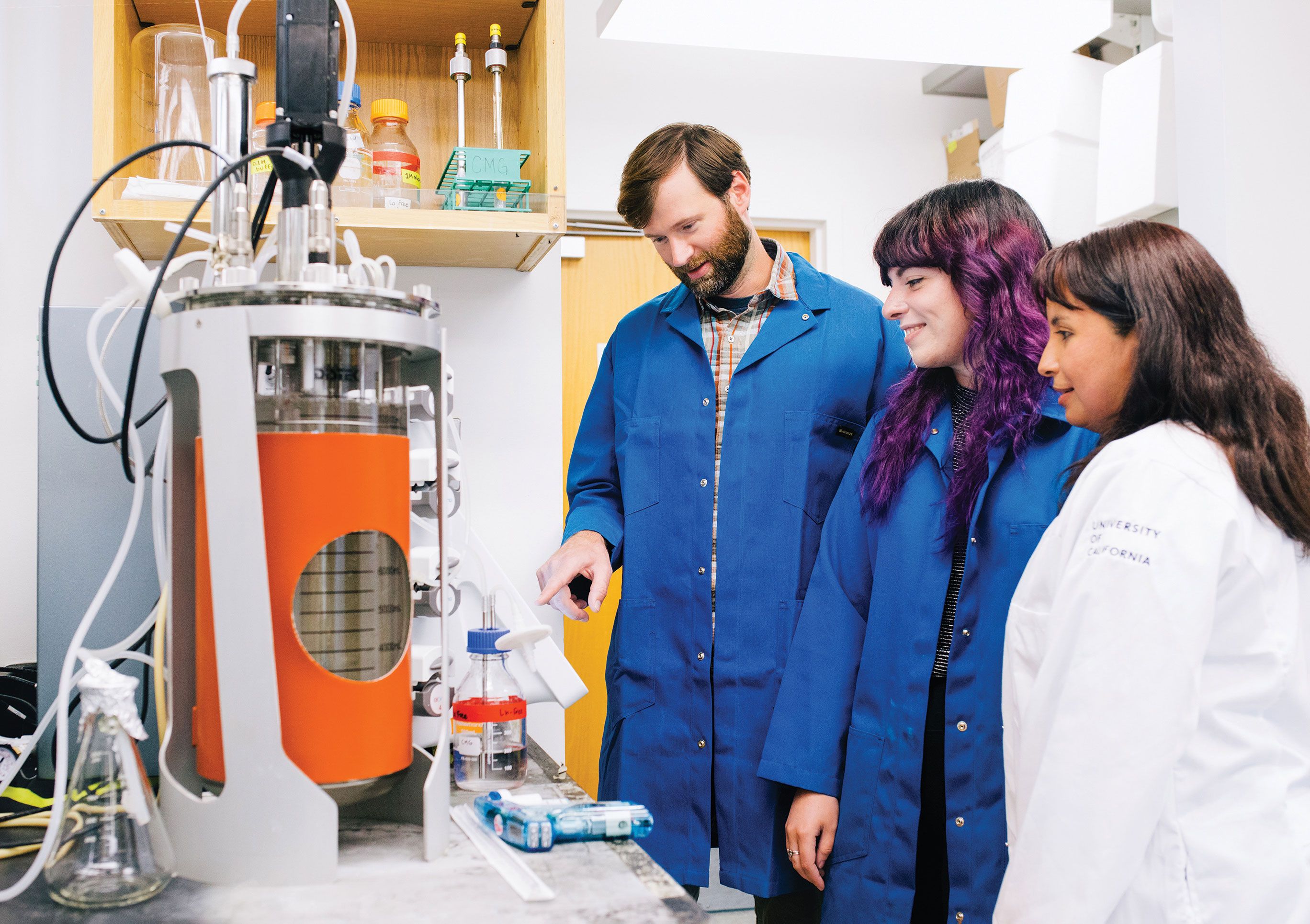 Associate Professor Cecilia Martinez-Gomez is pioneering research to engineer bacteria that can recover valuable elements from old smartphones, clean up medical wastewater, and more. Photo by Anastasiia Sapon.
Learn from the Best
The achievements and honors garnered by Rausser College's faculty grow too quickly to keep up with. But the most recent tally includes:
4 Nobel laureates affiliated with the 2007 Nobel Prize for the Intergovernmental Panel on Climate Change
3 Wolf Prize Winners
7 MacArthur Fellows
20 National Academy of Sciences Members
35 American Association for the Advancement of Science Fellows
9 American Academy of Arts and Sciences Members
40 Fulbright Fellows
6 Guggenheim Fellows
2 World Food Prize Winners
22 California Academy of Sciences Members
3 Volvo Environmental Prize recipients
12 UC Berkeley Distinguished Teaching Award Winners
1 Greenwall Faculty Scholar
By the Numbers
2,575 Undergraduate students
365 Graduate students
15 Interdisciplinary research centers and facilities